Doshisha Week 2020 "COVID-19 Research: Challenges and Achievements for the Society"
February 24, 2021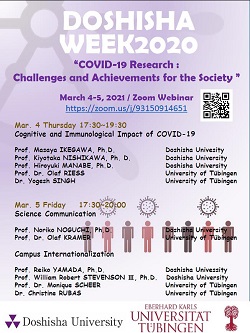 Although more than one year has passed since the first COVID-19 was reported in Wuhan, China, the fight against the virus that had severe effect all over the world has not yet come to an end.
Doshisha University and the University of Tübingen has respectively promoted their research on COVID-19 in various academic fields such as Life Science, Medical Science, Social Science, etc.
In Doshisha Week 2020, a series of research symposia, researchers from both universities will have lectures and discussions on the following three topics for two days.
1) Cognitive and Immunological Impact of COVID-19
2) Science Communication
3) Campus Internationalization
Date & Time
Thursday, March 4, 2021, 17:30 – 19:30 (JST) = 9:30 – 11:30 (CET)
Friday, March 5, 2021, 17:30 – 20:00 (JST) = 9:30 – 12:00 (CET)
Held online
Please visit the URL below to watch the symposia. (No prior application required.)
**Doshisha Week 2020 is a series of research symposia held by Doshisha University in order to promote research exchange with the University of Tübingen. Usually, the Doshisha Week is held every year at "Doshisha EU Campus" on the campus of the University of Tübingen, but it has been decided to be held online this year (AY 2020).
Program
Please click below to see the program of Doshisha Week 2020.
Contact
Division of Research Initiatives, Organization for Research Initiatives and Development
(e-mail) jt-ura@mail.doshisha.ac.jp